How do you find new shoppers?
Monday, 10 September 2018
The background
Recently, AHDB attended a meat, fish and poultry (MFP) conference by Kantar Worldpanel, aimed at understanding how the category can find new shoppers. Kantar has summarised the key highlights below for us.
There are four known rules for understanding brand growth:
Growth comes from new shoppers.
Most shoppers only buy your brand once.
Shoppers don't belong to you.
Buyer bases are in constant churn.
But how true are these for the meat, fish and poultry categories and cuts?
Winning shoppers is still key for the cuts within meat, fish and poultry, until you have won over half of the population, at which point how often people buy and the right pricing become more important. Although we hear a lot in the press about people leaving the meat category and becoming vegans, the MFP category continues to have an outstanding shopper base with over 9 in 10 shoppers buying the category in a year. So, at an MFP level, adding shoppers will be hard, but getting people into proteins and cuts within proteins will help grow MFP, overall. Shoppers like to shop around in the MFP category, with two out of three shoppers buying four or more protein types in the last year and 9 out of 10 buying two or more proteins. Red meat can benefit from this through encouraging its shoppers to buy into more cuts across red meat, substituting poultry and fish.
Despite the size of these categories, the second rule remains important. The more shoppers buying into a cut, the less likely you are to have shoppers buying only once. Great examples of this would be bacon, sausages, chicken breasts, chilled fish and beef mince, where only between 10–15 per cent of these shoppers buy it only once. On the other end of the spectrum, whole turkeys and ducks see between 85–95 per cent of their shoppers buy only once in the year. We know it is hard to increase frequency, but adding more once only shoppers can help drive growth for many categories. While driving more trips in existing shoppers may be challenging, some versatile cuts do show an opportunity. For example, in lamb, diced/cubed has almost two-thirds of shoppers buying the cut only once a year. We also see opportunities to grow trips in beef marinades (59 per cent once only shoppers) and pork loin roasting joint (56 per cent once only shoppers). Communication, supported by promotions, is a great way of encouraging experimentation of cuts and has proven a great driver of growth in the past.
The evening meal is where MFP is strongest, but there is massive competition in that occasion, meaning it will always be hard to retain shoppers. In meat, fish and poultry, your shoppers definitely don't belong to you, as people move in and out of proteins and cuts, year-on-year. Loyalty to a specific cut will always be low when there is a huge amount of options you are fighting against. For example, at dinner, a Beef Steak could fight for basket space against anything from a fillet of fish, a ready meal, a pizza, all the way through to a salad. To succeed against these odds, we need to continue to focus on a mixture of inspiration and investment, making sure we communicate the right message and give shoppers reasons to buy red meat cuts over something else.
So how do you find new shoppers?
Finding new shoppers isn't easy – if it was, everyone would be adding to their shopper base. There is no simple solution, but the easiest way to attract shoppers is through giving people more reasons to buy. What can we do in red meat to improve our chances of adding shoppers? Giving people solutions, not problems, is key.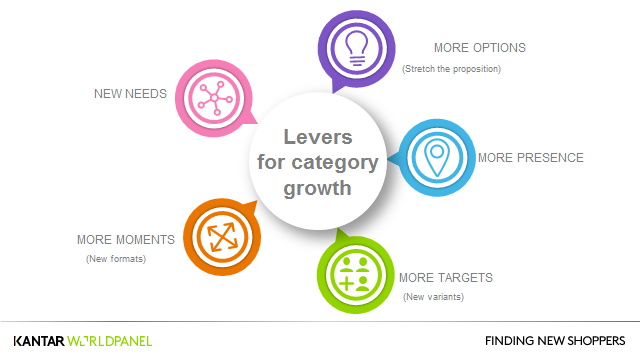 For red meat, giving the shopper options relevant to their lifestyle is important. This could be as simple as bringing the restaurant experience in home – in the past, Ribs and Pulled Pork have done this well. What else can we leverage from here? Presence, both physically in store and mentally, is important, we need to remind shoppers of the great products, the dishes they can make and get them on the shopping list. As the population ages, one simple target is smaller households; do we have the right products and packaging to suit those shoppers and what can we do in the future. Health is an important consideration right now, but what will the next big need be? Will it be driven by legislation or wider societal trends? We need to be on top of the big movements and make sure our products meet those emerging needs without forgetting our core. If we deliver on these levers, we get ourselves in a great place to add new shoppers.