Strategic Dairy Farms: How the Halton's have coped with the drought
Tuesday, 28 August 2018
This summer has seen Dairy farmers across the UK facing two months of extremely hot and dry weather, but now we are finally starting to see some rain again, bringing relief to dairy farmers across the country.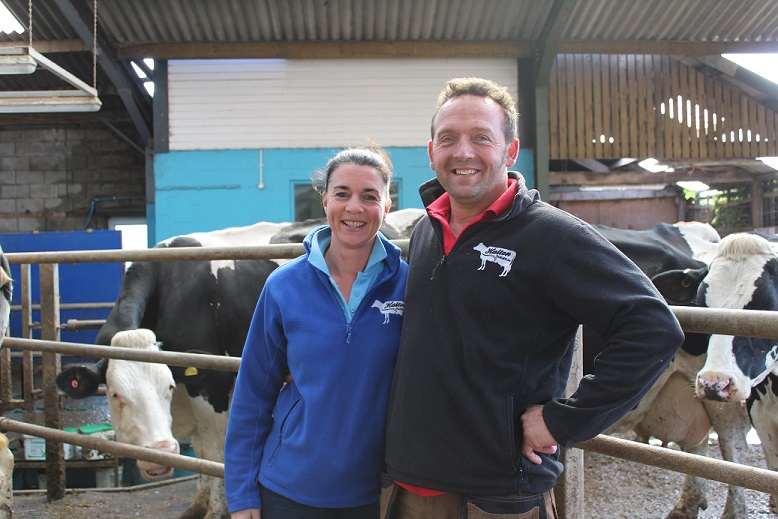 The impacts of the drought are going to be felt long and hard over the winter months. We catch up with Strategic Dairy Farmers Tom and Karen Halton, to see how have coped during the drought.
Q: Tell us a bit about your farm?
Tom: We are based in Congleton, near to Cheshire, which is home to our 560 cross-bred dairy cows. We have 550 acres and calve all year round, with a yield of 10,000 litres. We have a high input and aim for a high output.
Q: Can you tell us how the drought has effected yourselves?
Tom: Things have definitely become a lot tighter recently. Earlier on in the season we were hard grazing our low yielding cows, about 150 of them. But since then, as we have dried cows off and turned less out. There's no grazing left at all and everything is on winter ration now. It's been a testing time as everything we are buying is now going up in price, dairy farmers everywhere are struggling.
Q: How has the drought impacted prices and availability of feed?
Karen: It's affected us massively, there's a lot of money we are now spending that we didn't budget for. We ended up spending a massive amount of our budget on maize and other locally sourced feed, but that was quite a few months ago and we would dread to try and buy it now, we just wouldn't be able to. Beef calves have also dropped in price by 20% and our nutritionist recently rang us to tell us our feed costs will be going up by 20%, so we've now got quite a big deficit. It's getting really tricky.
Q: At the last Strategic Dairy Farm meeting on your farm, consultant Hefin Richards came along to talk about planning for forage. What did you take away from this and have you made any changes on farm?
Tom: When Hefin Richards spoke at the meeting is was only just starting to get hot. He spoke about the importance of planning forward, which was one of the reasons we started being proactive and bought the whole-crop, before the prices started to go up. One of reasons main reasons we wanted more involvement with AHDB was because we wanted information on how to maximise the dry matter output of the farm, because we were so heavily stocked. We were already planning to do a lot of reseeding this autumn, which we will definitely have to do now to avoid stressing the cows out more, particularly the older cows. We have also bought forward quite a bit of moist feed, more than we have done in the past.
Q: What do you think the long term effects are going to be?
Karen: The main impact is going to be on our pockets, everything with prices rising we have got to plan for things we haven't budgeted for. Nobody saw the hot weather coming so we have got to make sure we are being as efficient as possible and that we are still getting the milk from the cows. The winter is going to be difficult and we have got to focus now on how we can improve our situation in the future. Small things such as cleaning the troughs more regularly to encourage their feed intake could prove important. We've also got fans for the dry cows to keep them cool for calving and keep them producing colostrum. We've got to stay positive and concentrate on getting the good milk.
Q: What are the key things you will focus on over next few months?
Karen: Cash flow and speaking to the bank manager more regularly! We are also going to keep a much closer eye on the markets too, we have forward sold some of our milk at the moment so we are going to keep our eyes on that and make sure it doesn't get too far away from us. We sell our milk in four different places so we have a forwards contract. We track a basket price with Muller, we're on the spot market, we sell through our milk shack and we also sell to someone locally to make cheese. We're going to have to see where we can maybe optimise a bit more and make sure we are always keeping out members of staff happy.

The next strategic dairy farm meeting at the Haltons is set to take place on October 23, where we will be focussing on reseeding and planning forage for next year. Come along to see the farm and hear from a range of experts speaking at the meeting.